Welcome to Advisys
THE BEST FINANCIAL PLANNING AND INSURANCE SALES SOLUTIONS FOR FINANCIAL PROFESSIONALS
Create Plans and Client Presentations in Just Minutes Instead of Hours
Goals-Based
Planning
Develop plans in 10 minutes or less for retirement, survivor needs, risk tolerance, portfolio modelling, LTC, estate planning business continuation and more.
Educational
Content
Over 600 educational pieces covering the topics and concepts your clients and prospects value most when they are making important financial decisions.
Motivating
Calculators
Over 70 calculators to illustrate vital concepts or move clients to action, such as "When Will Your Nest Egg Run Out?", "How Much Life Insurance?" and more.
Retirement Income
Distribution (RID)
The newest Advisys module helps clients make their money last by identifying their retirement wants from their retirement needs.
Unlimited
Support
Free updates and unlimited expert advice and user support by email, chat or phone at no additional charge to you.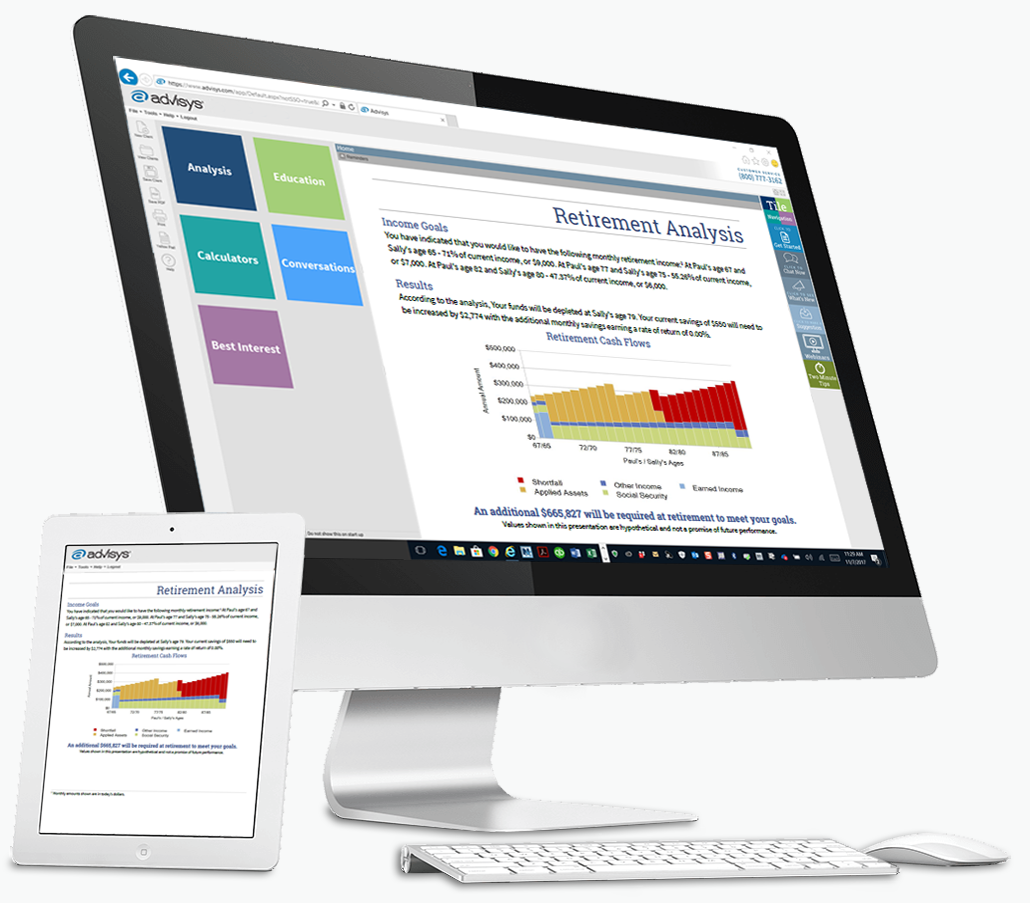 "Simpler is smarter, and smarter is better."
Advisys creates smarter, simpler, faster financial planning and insurance sales solutions for professionals. Reports summarize on a single page the client's need and a solution. Educational materials simplify complex topics and are easy for clients to understand. Calculators answer a client's questions or overcome objections with just a handful of inputs. It's why many consider Advisys the most frequently used financial planning and insurance sales solution for professionals.
Be Your Best When It Matters Most®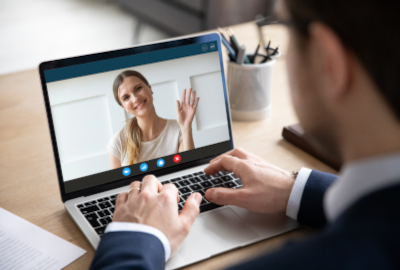 Simple Conversations
Every lasting client relationship starts with a simple conversation. Advisys helps you get the conversation going. You pick the tables, charts and educational pieces you want and assemble them in any order to quickly create client presentations, approach pieces and leave behinds. It looks like it took you hours to prepare when it only takes minutes.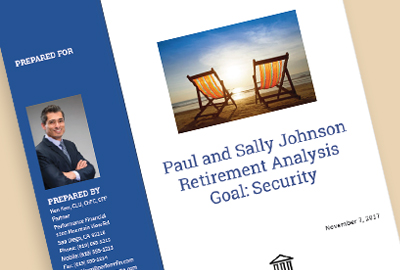 Your Personal Brand
Nothing inspires trust and encourages referrals more than good service and a professional image. Advisys gives you both. Every plan and presentation you create is an opportunity to promote your personal brand with a title page including your photo and logo, and a profile page describing your professional experience and your customer service philosophy.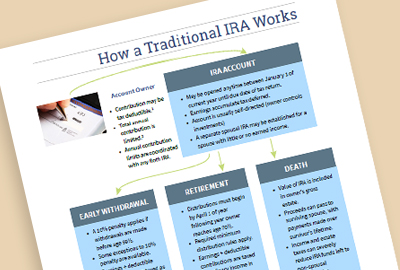 Digital Leave Behinds
Presentations are saved as high-quality PDFs you can share with clients by email or present on your tablet device. Or, use Advisys Mobile for iPad for an interactive client experience: use financial calculators, share concept pieces and collect and upload fact finder data. Advisys Mobile for iPad works with or without an Internet connection.
Proudly serving since 1979
Since our inception as Kettley Publishing and Back Room Technician®, Advisys solutions have stood the test of time. Our 40,000 licensed users cover a cross-section of the industry, demonstrating that Advisys' approach can improve results, referrals, cross sales and customer loyalty no matter in which field or profession you work.
Attorneys and CPAs
Brokers and RIAs
Financial Planners
Insurance Agents
Wealth Managers
Broker Dealers
Commercial Banks
Credit Unions
Insurance Companies
Savings and Loan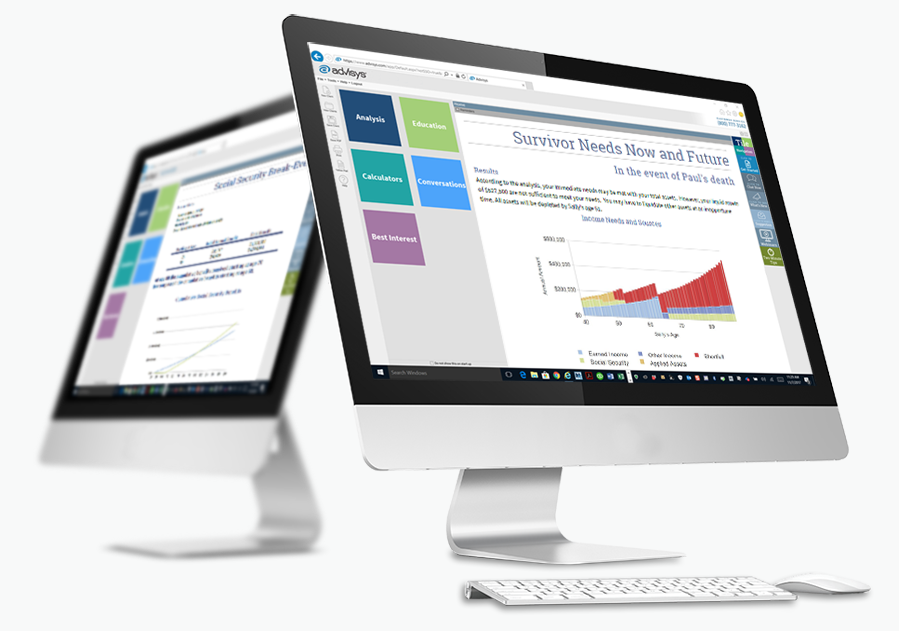 What People are Saying
Like many of our customers, you'll quickly find Advisys stands apart in delivering a uniquely satisfying user experience.
"Should be at the top of the list for anybody looking to do planning."
Douglas Jones
CLU, ChFC ®, CLTC
"By comparison to other financial planning programs, Advisys is so much more user friendly and efficient."
Robert La Chance
CLU, ChFC, AEP, CFP
"The greatest asset I find is making a complex subject simple to understand."
"It's the ideal financial analysis tool."
Schedule a 30 minute demo
Get a 14-day free trial
Insight Earns You Trust.
Trust Earns You Loyalty.™
At Advisys we're passionate about finding the simplest and fastest way to deliver our customers actionable insights into their clients' needs. Simpler. Smarter. Faster. Better.
Contact Us
3 Corporate Park, Suite 240,
Irvine, CA 92606
Phone: (800) 777-3162
Fax: (949) 250-0794