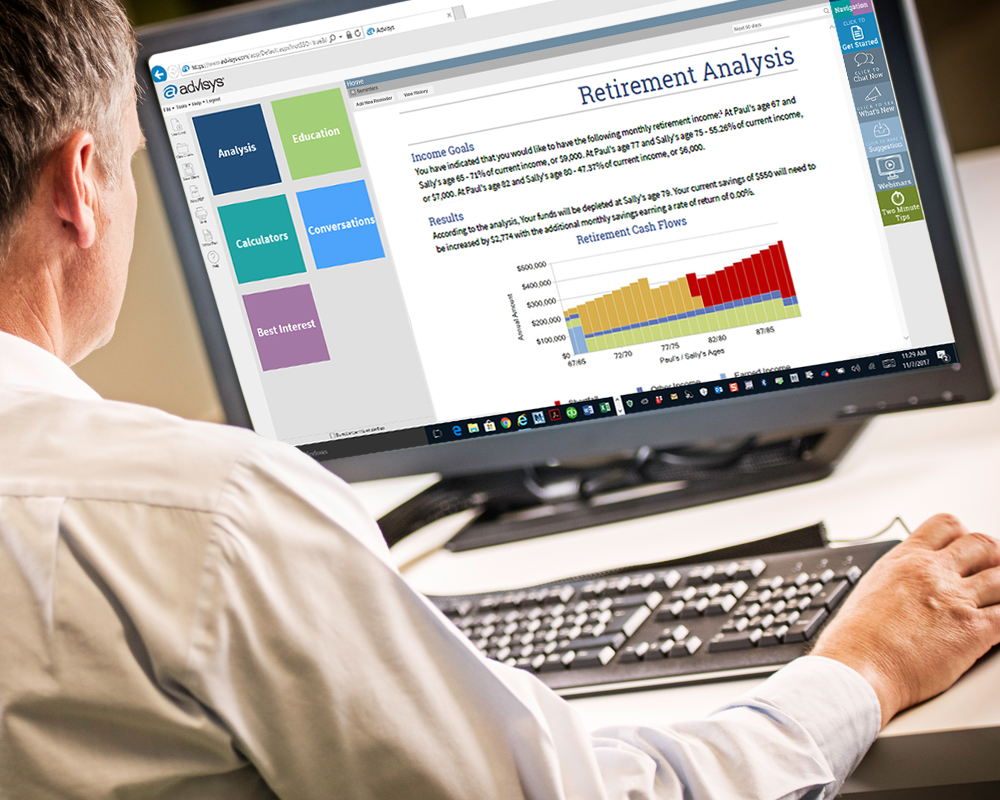 Advisys: The Only All-in-One Solution
Only Advisys combines goals-based planning, client education and presentation materials plus motivating calculators in a single solution.
11 Goals-Based Planning Modules
600+ Client Education Pieces
70+ Financial Concept Calculators
Fact Finders are 4 Pages or Less
Brand with Your Photo, Logo
Materials Meet FINRA Guidelines
Learn
more
about the Goals-Based Planning Modules
Advisys' Most Popular Solution
With Advisys' financial planning modules you can create retirement plans, analyze life insurance needs, produce college funding plans, conduct investor risk analysis and develop asset allocation models. Using a two or four-page fact finder, you can complete your fact-finding interview and input your data to create a personalized plan in 15 minutes or less.
Client education and proposal materials help you explain essential financial planning investment concepts such as The Need for Financial Planning, Key Retirement Questions, Basic Investment Tools, Coping with Market Volatility, Retirement Income Sources, Ways to Pay for College, Considerations in the Purchase of Life Insurance, Estate Planning Considerations and more.
To overcome objections and motivate clients to action, Advisys includes calculators like Social Security Optimizer, Impact of the Rate of Return, When Will Your Nest Egg Run Out, Long-Term Care Breakeven Calculator and others.
A full-featured financial planning solution that helps make the most of your opportunities to serve your clients, Advisys also includes goals-based planning modules, educational content and calculators covering disability insurance, LTC, estate planning, business continuation and charitable planning.
Advisys' smart and efficient design helps save you time by minimizing data entry. Once you've completed one planning module, the data is instantly available in the other modules as well. There's no need to type in the data twice.
Use the Social Security Optimizer, for example, to identify the most effective strategy for maximizing a client's Social Security retirement benefit. Then import the results into the Retirement Planning module to produce a complete retirement analysis.
Advisys is a cloud-based application, so you can access it from your home, office or anywhere you have an Internet connection. Data is stored using the highest security standards. It includes extensive video training and help inside the application. All updates and live support is included with your annual subscription.
---
Guarantee
We're so confident that you'll earn the subscription price back within weeks of purchasing that we offer a 60-day money back guarantee, the best in the industry.
---
Contact Us
We're happy to answer your questions, conduct a demonstration or arrange for a free trial.
UNLIMITED UPDATES
Free updates throughout the year keep you ahead of tax law and industry changes and add new features.
INSTANT SUPPORT
Unlimited planner and technical support instantly by phone, chat or email during regular business hours.
PROFESSIONAL DEVELOPMENT
Free webinars teach you ways to use Advisys for prospecting, selling, cross-selling and to create referrals.
SPECIAL DISCOUNTS
Compliance approved by leading broker dealers. Special discounts may apply. Call toll-free for details.
Insight Earns You Trust.
Trust Earns You Loyalty.™
At Advisys we're passionate about finding the simplest and fastest way to deliver our customers actionable insights into their clients' needs. Simpler. Smarter. Faster. Better.
Contact Us
3 Corporate Park, Suite 240,
Irvine, CA 92606
Phone: (800) 777-3162
Fax: (949) 250-0794